7th July 2013
Davrol Dancecard (De Niro / Farewell III)
DOB : 28th November 2011
Dancecard is growing up!! Our colt is now rising two years of age and is still looking every bit a lovely stallion prospect.
He is photographed here enjoying a rug-free winter's day.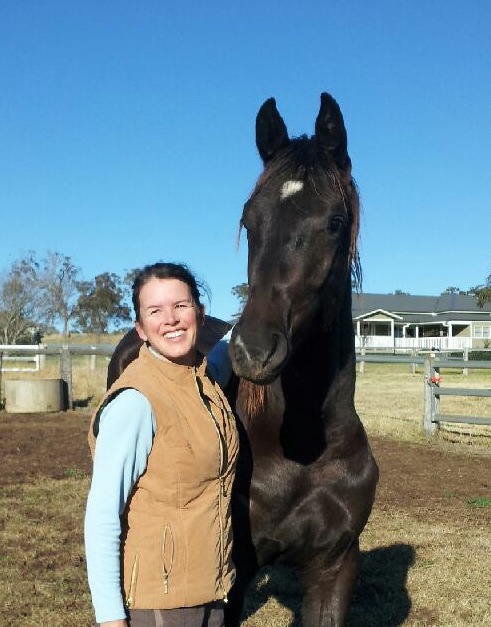 25th May 2013
Fidelity (Farewell III / Welt Hit II) had her first competition in just over 12 months. We have spent the time away from the competition arena getting yet another De Niro embryo and working towards competing at Medium level and upwards. It was time well spent. She performed extremely well and achieved close to 65% in her first Medium test and a 4th place at the prestigious Qld Dressage Series Event.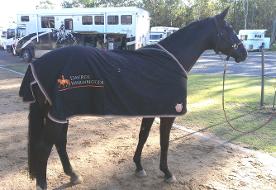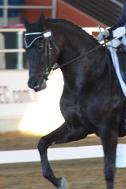 Fidelity showing off our new Davrol Warmbloods competition rugs and competing in the Medium class at the Qld Dressage Series.

13th April 2013
Meet Sox.
Sox is the recipient mare and oven in charge of looking after Fidelity's (Farewell III / Welt Hit II) next De Niro embryo. We would like to extend our sincere thanks to Max and Robyn Wilson of Equivet Australia who always take such great care of the Davrol mares.
Pictured right : Equivet Sox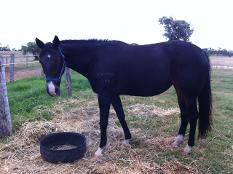 29th March 2013
Davrol Salsa and Davrol Delilah thought that the tractor was a bit of light entertainment while I was slashing the fence lines. Both of these beautiful fillies are out of imported mares. Salsa is by Scolari (Sandro Hit / De Niro) and Delilah is by the super sire De Niro and out of Fidelity (Farewell III / Welt Hit II).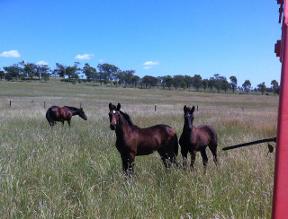 20th February 2013
Another month of fantastic clinics with Leonie Bramall and Peter Storr at Davrol. Leonie even had time before leaving for a very quick photo shoot with Davrol Dancecard (photo right). And I must mention that it was a tad wet for Peter's clinic as he taught through a ex-tropical cyclone Oswald which dumped 250ml of rain over a few days (photo below of our mini river)!!