Kate Wilson (nee Overton) : "I got my first horse when I was 13 after non-stop pleading with my parents. I showjumped throughout my teenage years on a horse called Texan and then finally got the dressage 'bug' with an ex-racehorse called Goodtime Charlie, when it was decided that he wasn't such a fan of jumping.
I travelled overseas in the early 90's and had the opportunity of working for a dressage rider in Belgium where I was lucky enough to receive lessons on a Grand Prix school master. I then worked for Christine Doan during her preparation for the Barcelona Olympics with Dondolo and was privileged to spend my days watching horses in training at the stables of the master trainer Herr Willi Schulteis and Rudolf Zeilinger.
On returning to Australia I purchased a 2yr old warmblood called Cyrano that I took through to PSG level. I spent three years working for Christine Doan where I got valuable experience riding avariety of different horses and receiving coaching. Cyrano was the member of several Qld State Squads before being sold to NSW.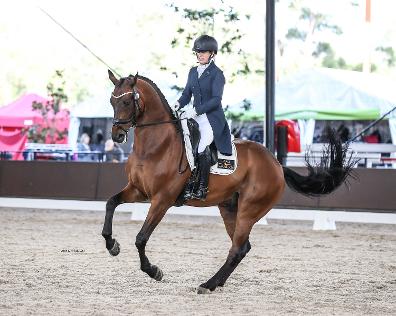 Pictured above : Kate and D'Coeur Noble competing in the Inter I at the 2020 Willinga Park CDi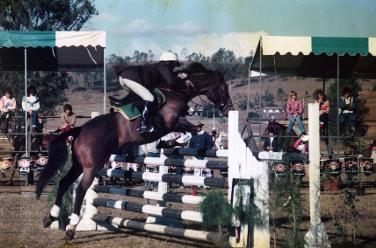 Pictured above: Kate and Texan competing Junior Class at the Kooralbyn 'Bond Series' showjumping event
The next move I had was to Belcam Stud where I rode dressage for three years on everything from 3yr olds to FEI horses, as well as the breeding stallions. During this time, I acquired LaViva (aka Smurch) who was a very green and some what failed jumping horse.

I now live just south of Toowoomba with my husband Perry and we breed dressage horses at our stud, Davrol. We have travelled several times to Germany to train with Leonie Bramall and been lucky enough to find and import three beautifully bred mares. These horses will be the foundation of the breeding program at Davrol as well as becoming the next generation of competition horses for me to train and compete."
Coach : Leonie Bramall.